How can the Lyft, Intacart, Doordash, and Uber drivers leverage their car through advertising and make extra money?

The goal of every driver is to maximize their income, whether active or passive pay. 

However, sometimes expenses such as car maintenance and the cost of gas can be too high, such that the business doesn't break even.  This is one reason why drivers at Uber, Intacart, Lyft, and Doordash, opt to use their car to advertise using digital billboards as they move around the town hence making extra passive income monthly.

So, if you are a driver looking forward to getting paid by advertising on your car, then these are the best digital advertising companies you might consider working with.
Wrapify Car-Wrap Advertising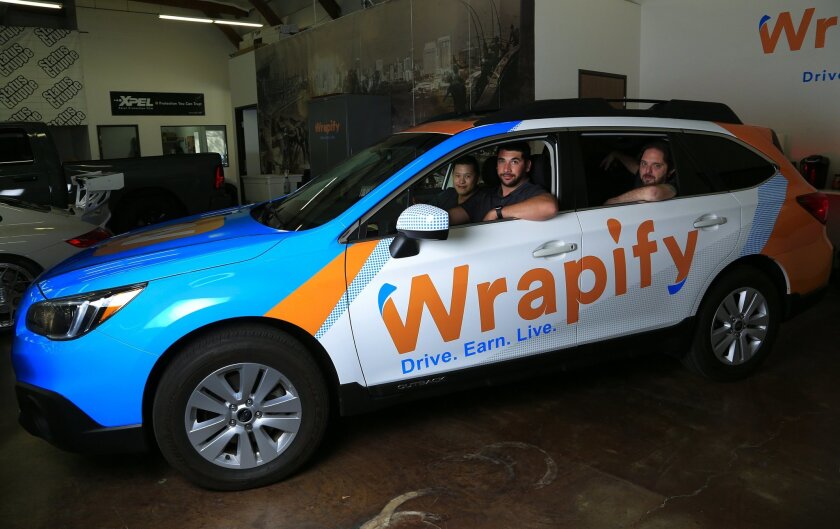 Wrapify is a fusion between leasing part of your car space and driving to earn your income. Wrapify works by partnering with advertisers that are willing to roll wraps on their car. Drivers earn through placing an ad on their car and paid based on the mileage covered.
The first step to work with Wrapify is by downloading the Wrapify app on your smartphone and sign up to become a member.  Once you spot a campaign that draws your interest, you will have your car wrapped with ads and start earning money. The miles you'll cover around your campaign zone determine your earnings. 

The main challenge about Wrapify is that earnings largely depend on miles the driver covers within their campaign areas. Besides, a typical campaign can last for only a few months, say, four to six months, which means that you might end up with negligible earnings as a driver.

Another issue with Wrapify is charging their drivers the early termination fee if they terminate the contract before the official closing date. 

Carvertise | Advertise on Uber, Lyft, Doordash Cars
This digital advertising company has been in operation since 2012 and has thousands of drivers throughout the States. The drives enter their phone numbers, name, and email on the Carvertise website to sign up. 

The driver is then matched to a brand looking forward to advertising in areas the driver normally visits. Once the driver is approved, the company installs the advertisement wrap on the car.

The driver earns a $ 100 direct deposit within the advertising duration. If the driver participates in a two-month campaign, then he/she will earn $ 200. 
At the end of the campaigning time, the driver is free to remove the ad.

The main challenge about Carvertise is that drivers must drive at least 30 miles per day to earn the direct deposit.
Murmur: Make Extra Money by Advertising on Digital Car-Top Billboards.
Murmur is a digital advertising company that partners with Uber, Lyft, Doordash, Instacart drivers and pays them to advertise on their vehicles by installing digital car-top displays.

Murmur pays drivers per impression, which means that drivers earn more when more people see ads on car-top displays.

According to the Murmur Driver FAQ, web page drivers can make up to $500 a month extra.

Are, Murmur, Carvertise, and Wrapify Legit?
Yes! Murmur digital advertisement company just like Wrapify and Carvertise, are legitimate enterprises operating under the Laws of Business existence in the United States.
However, drivers must be very keen not to fall victims to cashing scams. Most of these scams offer a too-good deal to be legit car wrap ventures. 
Check if the advertising company you want to work with is listed on a digital classification website like Craigslist.
Besides, look for public reviews such as Wrapify Reddit, where most reviews should be positive.  How do the drivers who have worked with the company you wish to register said about the company? There is no record of drivers who entered made an agreement with these companies and ended up without being paid. The companies exist under the obligatory business existence laws in the United States.

Wrapify vs. Carvertise
Drivers can earn a substantial amount of passive income consistently.
Although both Wrapify and Carvertise help drivers convert their cars from liabilities into assets, Carvertise is more preferred than its counterpart.  This is because the Wrapify per-mile pay is relatively low in addition to hiking your driving mileage. 

Both Wrapify and Carvertise require the driver to own a newer vehicle and commute a certain stipulated mileage.

Murmur, a similar advertising company to these companies, doesn't require you to cover a certain mileage for the pay. The advantage of car-top advertising that you don't have to drive more than an average driver, unlike when delivering goods.
Minimum Requirements/ qualifications.to join the respective schemes.
For Carvertise:
At least cover 30 miles per day.
 Have a 2008 model car or even a younger car model
The car body must be impeccably clean without traces of ruined paintings or dents.
With Wrapify:
Minimum age 21 years old.
Have zero criminal records or driving misconduct for the past three years
Own a 2008 model car or younger
The car should be in paintwork and of a perfect shape.
Download Murmur Mobile App and Start Earning Extra Money